It's not often that skincare is the topic of discussion here at Project Alicia, but it is certainly something that is on my mind a lot these days and has become something of a lifelong obsession having been graced with acne prone skin.
I have read more than most on the subject (mostly in the wee hours of the night out of complete despair) and have tried just about every product on the market- both over-the-counter and prescription.
Topical and oral antibiotics, benzoyl peroxide creams, retinoid gels, sulfonamides, toners, astringents... by the age of 15 it seemed I had tried it all. And with little success. At the age of 18 I was put on accutane, a potent form of synthetic vitamin A aimed at reducing the amount of oil released by my glands. Regular blood testing had to be performed to monitor my internal organs and the symptoms were extreme- nose bleeds, dry lips, joint pain, bloody stools, and easily torn, shedding skin to name a few. It's certainly not the easiest route and unfortunately not a permanent cure. And for those of us who were given this drug in the 80s and 90s, they are now finding some serious long-term effects, including liver damage, bowel disorder, hair loss, back pain, fatigue as well as
many other disturbing ailments
. My sister (who also took accutane in her teens) now has elevated liver enzymes of an alcoholic having never taken a drink in her life. (I have yet to have mine tested.)
Accutane also seems to effect your sebum production permanently. For many it destroys the sebaceous glands making it impossible to ever produce oil again and for others (like myself) it seems to be the opposite result- sending it into hyperdrive! Which, by the way, is just swell in a humid climate area like South Carolina. (sarcasm) I have tried everything under the sun and even products that claim to reduce all oil barely scratch the surface. I use 4-6 oil blotting sheets daily and keep them in my makeup bag, car, and purse. I have been on
Pantothen
for over a year now with no success. It is made up of mega doses of Pantothenic Acid (Vitamin B5) and works similarly to Accutane in the way that it is reported to reduce oil production (or sebum) and then in return reduce acne.
Before I tried the Pantothen I was on the birth control
Yaz
, which by the way works beautifully for me once I get past the initial 4 months of cystic acne and my body balances out. It is made up of ethinyl estradiol (a synthetic estrogen) and drospirenone (progestin). The progestin works to block the sex hormones (androgens) that cause acne. Once my body got used to the Yaz, it seemed to be the perfect cure. That is, until the headaches began. Weeks on end of migraine level headaches doesn't bode well for a mother of two. It is also linked to breast cancer (which runs in my family) as well as depression and melasma. But unlike my days of pregnancy, the dark patches weren't going away.
I knew that the decision to get off of the birth control would not be easy. Just like the months it took my body to adjust initally, removing it would be met with resistance as well. I tried to prepare for the change by seeking out professional help from a dermatologist. But her solution was antibiotics. And none of which I tolerated. One gave me extreme vertigo and nausea, another gave me diarrhea. After four different failed drugs, I felt like they were literally killing me. Not to mention what they were doing to my immune system. The doctor seemed to have no other solutions, so I resorted to the internet.
I started a course of probiotics immediately and went back to ProActiv. But by this time, my face was a mess. I read about a diuretic known as Spironolactone that exhibited similar properties to the progestin in the Yaz. It also possessed anti-androgenic properties, only without the side effects of the birth control pill. I was ready to give it a try. Unfortunately after just one week, I was the 1 in thousands that experienced arterial blockage and had to get off the diuretic immediately. My body didn't have time to adjust and my face went nuts.
I felt defeated. Was there nothing that could help me?
I was pretty desperate, so I decided to try altering my diet. I read that an overgrowth of candida can often lead to rashes and acne. I actually had an undiagnosed rash on my toes at the time that had been treated with multiple creams and rather than amputation (which was actually suggested) I decided to try this more natural route. I went without sugar or white flour/wheat for 20 days. The longest twenty days of my life. Unfortunately I am not good at restrictive diets, particularly while traveling. But the little bit I sacrificed seemed to make a difference, albeit small. My rashes were all gone and my acne was improved.
Perhaps I had some kind of food allergies? (I have yet to be tested for this due to our ridiculous almost non-existence health care coverage these days.)
I continued to eat healthier (less flour, sugar and carbs in general) and used ProActiv for months. It seemed to be better, so I decided to try my first ever peel, the Vi Peel, to address my melasma. My skin immediately was better, but something about the peel seemed to disturb the balance in my epidermal layers. The cystic acne was back with a vengeance. I wanted to cry.
I'm not sure what it is about my skin, but it could be one small change it doesn't like and it takes months to recover. Whether it's a new foundation, a sunscreen or a peel. And then there's those mysteries- the times you change nothing that you know of and you can't for the life of you figure out why your face is a mess.
This leads me to believe that there are certainly more factors at play than just environmental. I know that as a woman I have hormonal fluctuations going on inside this little frame of mine on a daily basis and it's a wonder some days I can even function at all.
I'm 40 years old and have already begun the fun hot flashes and irregular cycles that are supposed to be reserved for menopause. This peri-menopause seems to come early in my family, but I have rarely had balanced hormones so it is no surprise to me. I am on the hunt for a natural hormone doctor that uses bioidentical hormone replacement therapy (BHRT) but being new to the area, it has been a slow process. I don't want to rush into anything. (But this is an entirely different topic for another day.)
Female frustrations are many and they are no respecter of persons. If you have been able to somehow sail through your teens and twenties without acne, don't get too complacent. It seems those midlife hormonal battles bring out the worst in skin- particularly for those individuals who bypassed it in their youth. And it's not your typical acne. It's the cystic kind- the painful ones that linger for weeks, typically located along your jawline and/or your chin. I blame the hormones- they are responsible for the overactive oil glands that produce excess sebum (oil) that in turn block hair follicles and pores and eventually lead to plugs, bacteria and acne.
Isn't aging a joy? Fine lines, melasma, aching joints, droopy skin, hot flashes and now- cysts on your face!
Grapeseed Oil
Recently my older sister and I had a conversation on the phone. Skin is a common topic of discussion these days and she happened to mention that she read grapeseed oil may be effective for acne.
Having tried everything known to mankind (or so it seems) to treat acne, I figured why not try this. Hubs picked it up at the local grocer on his way home from work and I wasted no time in trying this crazy remedy. Oil. Who treats acne with oil? And cooking oil no less?
But I cleansed my skin and dabbed a bit of the oil on my problem spots that night.
Within days my cysts had vanished and I was in disbelief. I continued to use it for months, every night. I wanted to be sure this was no coincidence.
But it appeared to be some kind of miracle cure. My once cystic nodes that would last for weeks, leaving behind dark scars whether I picked or not, were just vanishing. No more weeks- they were gone within days!
Last night I decided to do more research. I wanted to know why. Why would grapeseed oil be effective on acne? Such a perplexing notion to wrap my head around.
My research had my head spinning. It seems grapeseed oil is not only great for acne, but also works to moisturize, tighten skin, eliminate dark under-eye circles, and fight aging.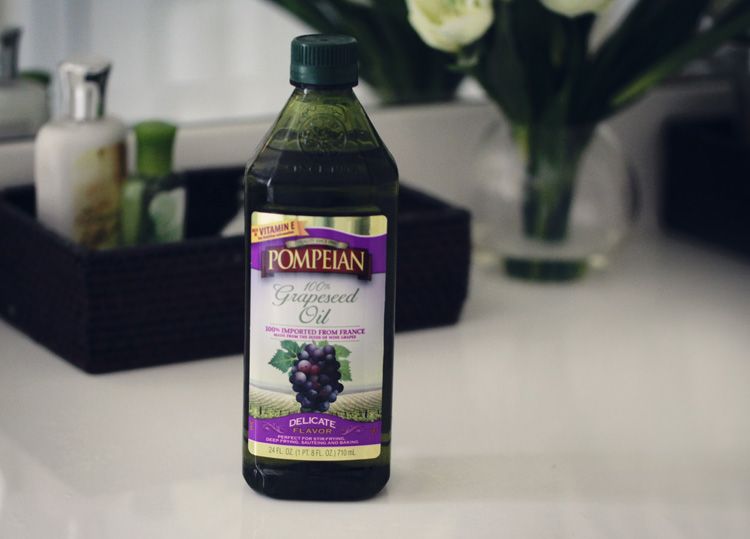 Combat Acne
Grapeseed oil contains both Vitamin E and Linoleic Acid. Vitamin E is an antioxidant and helps maintain skin as well as heal scars and the Linoleic Acid (also known as Omega 6) has anti-inflammatory properties, making the healing process quicker. It doesn't clog pores and actually works to help balance our oils.
Moisturize
It is lightweight and can be used as a moisturizer for all skin types, including dry and oily. It even works on sensitive skin! Just slather on your skin or put several drops into your favorite moisturizer. It absorbs quickly into the skin.
Tighten Skin
It also contains an astringent that works to tone and tighten the skin. This is ideal for all skin types, but more specifically oily.
Remove Under-Eye Circles
The oil contains no harmful chemicals and has been found to be effective in treating dark under-eye circles because of the antioxidants. Just gently dab it under the eye and look forward to results within a couple weeks.
Fight Aging
Grapeseed oil contains OPCs, otherwise known as oligomeric proanthocyanidin complexes which are rich antioxidants that fight aging. The oil helps to reduce fine lines and wrinkles and works against free radicals. It's also been known to maintain collagen and elastin. If you have a little extra after you rub it on your face, use it on your neck!
You can read more
here
or
here
.
It seems to be a well kept secret in Hollywood as well.
Emma Stone
uses it up to three times a day to maintain her blemish free, gorgeous skin. She could afford any treatment, but she chooses grapeseed oil. Interesting.
Also noteworthy: The oil can be used in conjunction with other skin care lines. I am currently using Clarisonic's Refreshing Gel Cleanser and Mia Brush in the evening and the Proactiv Cleanser in the morning. I have eliminated almost all soda from my diet, particularly caffeinated beverages, and drink 1 Litre of water daily. I rarely leave the house without sunscreen and work out on a regular basis. Not sure if any of these contribute to my skin, but I felt that they needed to be shared.
I am not saying that this is the cure for everyone as no one's makeup is identical, but after trying more products than I can count with little to no success, I am so happy to have finally found something that is making a difference-- that is a natural product. And for practically nothing. It is literally just a few dollars and can be found at most grocers in the baking aisle with the other cooking oils.
And the best part is that it fights more than just acne- which certainly appeals to me as an aging woman.
If you were blessed with perfect hormones and perfect skin- I will try to not be too jealous. But after extensive study, I know that I am not alone and that adult cystic acne plagues the majority of women. I hope that something I've said here helps you on your path to clearer skin and a happier disposition. Heaven knows we have enough to stress about in our 30s and 40s. Good luck!