This week's Prompts for the Nurture Photography Challenge are Home/Pink.
Living in eight different states, including multiple moves during my teen years, I've learned that nothing in life is permanent and that home is where the heart is.
We're still acclimating here in South Carolina and have just ventured into the home buying process again. Although it feels a little unsettling at times, I'm thankful to have my family by my side. No matter where we are or where we end up, they have my heart.
So, today I'm going to share photos that represent what "home" means to me as well as tips for capturing beautiful family selfies. It's certainly not always the easiest task, but definitely a technique worth learning. With just a few simple tools and a little practice, you'll be jumping into your family photos in no time!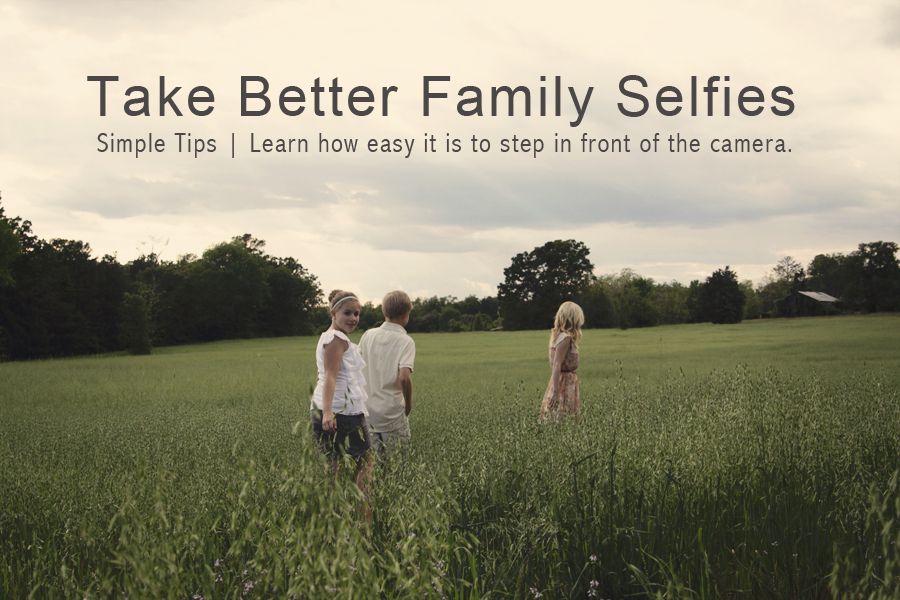 Whether you have active toddlers that scarcely sit still or hormonal tweens that detest cameras and photo shoots, you have to power through. Days. Months. Even years will fly by before you know it. And as the family photographer it is your job to document regardless of the circumstances presented you.
As you can see, my children are older and definitely fight me on photos. Their faces say it all, but I try to remember that I'm documenting whether they smile or not. They also are not so keen on hair or clothing choices being made for them. It certainly makes photo shoots a little more challenging. I'm learning to choose my battles carefully.
Ten Tips for Better Family Selfies
1. Acquire the appropriate tools
to make selfies easier. And be prepared. Keep batteries charged or cords handy. Know where your tripod's camera mount is located. These are simple things that can really trip you up or ruin a perfect photo opportunity.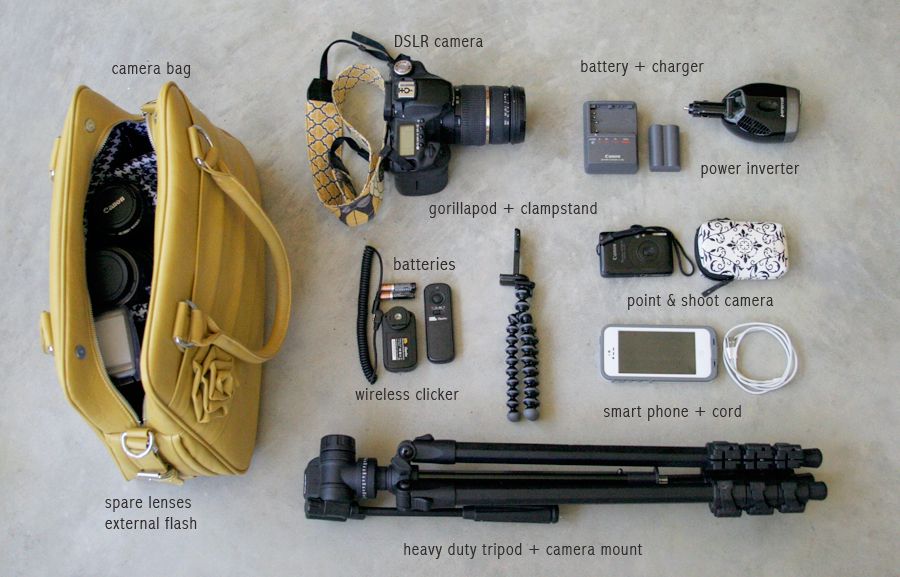 I rarely leave the house without these tools. I keep the cords and
power inverter
in my car so that I can charge when needed. I do, however, have two camera chargers and almost always have one battery charging at the house. The inverter has come in handy multiple times in a pinch though. I also own two tripods and almost always have one with me while I'm traveling. And I keep my point and shoot as well as my iPhone nearby.
Although I love the phone for the convenience factor, it still falls short for low light settings and shutter speed. My little light weight Canon Power Shot is a great choice over the big DSLR from time to time, such as amusement parks or sight seeing.
There are so many gadgets and gizmos these days to make photography easier. I love my
remote wireless clicker
and
gorillapod and clampstand
. (You can see it in action below- Tip #8.)
Please note: This is merely a suggestive list of tools. If you do not own all of these items, read on. There are so many ways to get great selfies without a tripod or big camera these days.
2. Use a reflective surface.
Mirrors, windows and shiny objects make for interesting photo ops. They work with any camera and it's an easy way to include yourself in the photo. You may want to clean the surface before shooting to prevent unnecessary post editing.
This photo was taken on our boat and I love how it captures the beauty of the lake, Little Man in action doing what he loves as well as a glimpse of me.
You could also capture your shadow. The stormy weather that unveiled this beautiful double rainbow also made for some very cool lighting.

3. Find a steady surface.
A tripod is ideal for selfies with a DSLR or Point & Shoot camera. However, it certainly does not require a tripod. There are times that it's not convenient to carry or you may not yet own one. No worries. Just find a flat surface to rest your camera on. Look around your house. Use a table, a couch, a counter, even an ottoman or piano bench will do the trick. It works in nature as well. Use a stump, a rock, even a rail. Keep your eyes peeled. Sometimes you have to get creative.
You may remember our
Edisto Adventure
from January when we had freakish weather in the 80s. We took a boat to the uninhabited Otter Island and spent a day without any running water or plumbing. We were the only people on the island- definitely an amazing experience. Before we left I wanted to snap a family photo so I propped the camera on a backpack. It took a few tries and although there is a lot of negative space, I love it and it worked out perfectly with the text I chose to add to the top.
You can see it here
.
4. Find the light-
Perhaps one of the most important aspects of photography. Unfortunately some of the best photo ops happen in the least ideal light. So, do your best.
If you are shooting indoors make sure to find a light source- a large window or skylight. I've even been known to open the front door to shoot photos. Make sure to position your subject towards the light if possible. This goes for all types of cameras, including the smart phones.
My favorite time to shoot outdoors is in the Golden Hours when the sun is low in the sky, producing soft, dreamy photos. You can read my
5 Tips for Shooting in the Golden Hours here
.
But if you are shooting in bright, midday sun- try to find a porch or covering of some kind so that the light is not as glaring. Reflectors are not exactly ideal for selfies, so you have to get more inventive. Test one of your kids before you jump in there.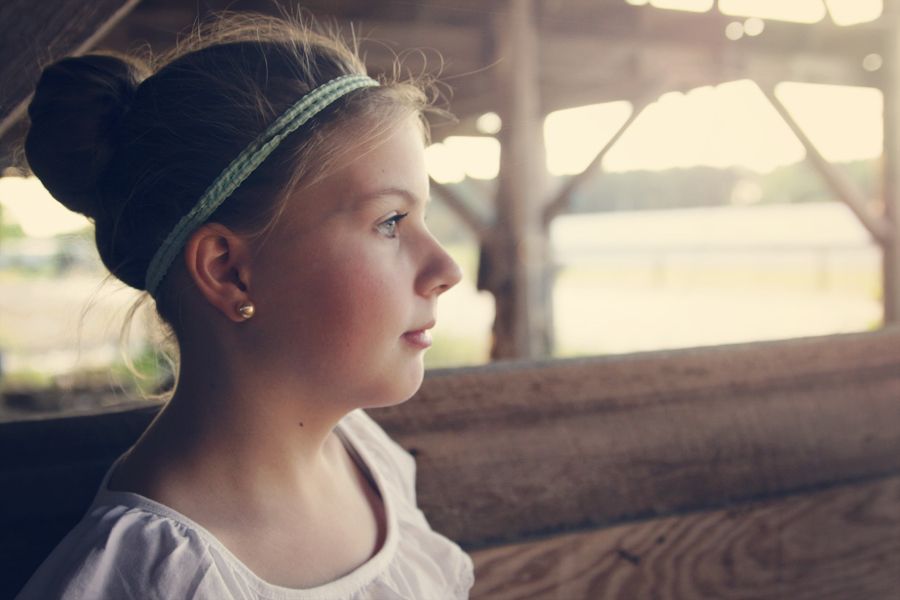 Utilizing the light correctly can really make or break a photo shoot.
5. Use a timer or remote clicker.
Before I acquired my remote wireless clicker, I had one with a cord and I was very limited with distance. Before that I relied solely on my camera's timer which worked for years. Very well, I might add.
I must say though, I really do love the wireless clicker. If you don't already own one, I would highly recommend it- a great addition to your camera bag. Some of my favorite photos were taken using a clicker. Get your camera lined up on your tripod or flat surface. I recommend manually focusing on your subject and then switching to auto right before you jump in the shot. You're not always going to nail focus, though. And that's ok. They don't have to be perfect. Just make sure to take plenty so that you have a variety to choose from.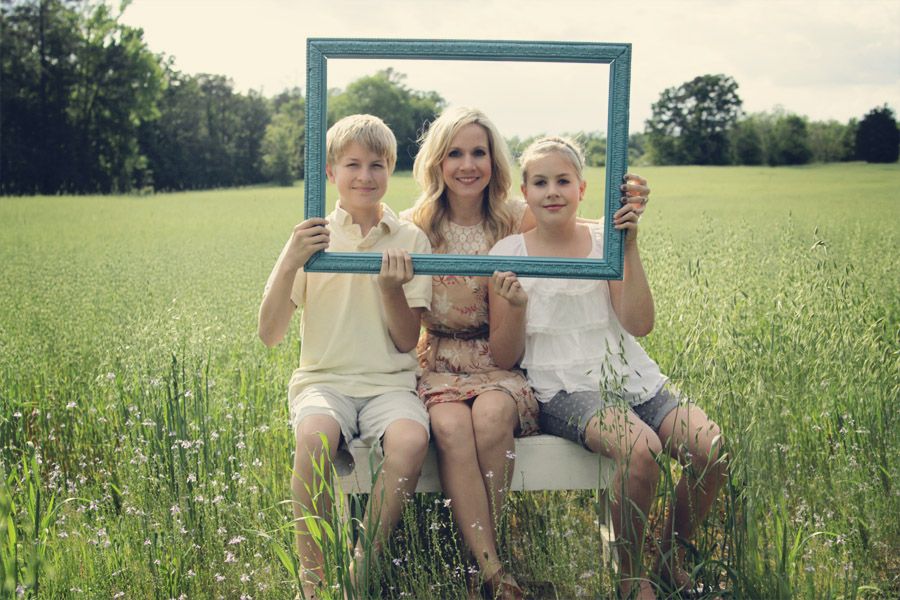 The wireless clicker is perfect for unposed shots as well. It's a great way to capture interactions effortlessly. Just set up your camera exactly where you'd like it and start clicking. You can click as many times as you'd like. It may be a good idea to check after a few to make sure the settings are right and that you are in the frame the way you envisioned.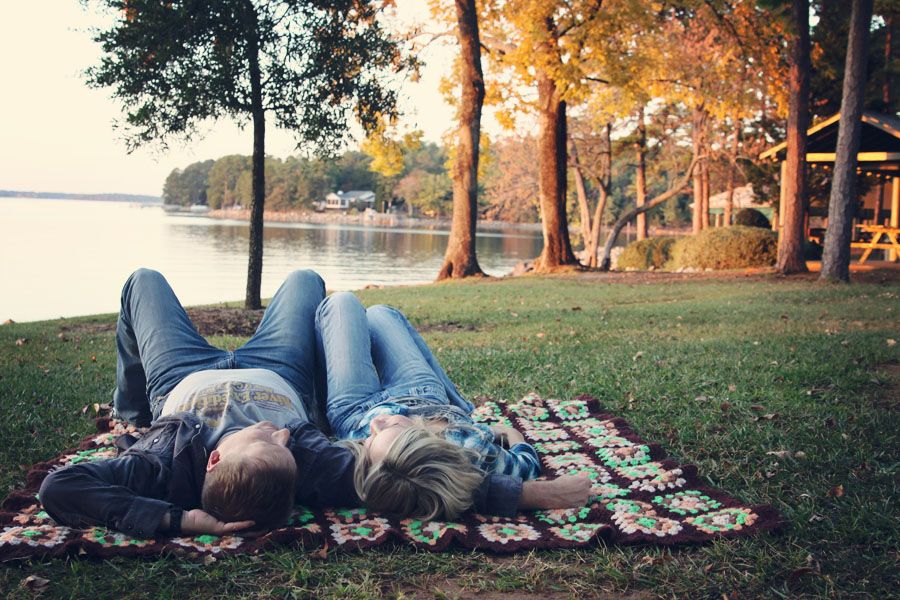 You can capture some really sweet, candid moments. And genuine smiles! :)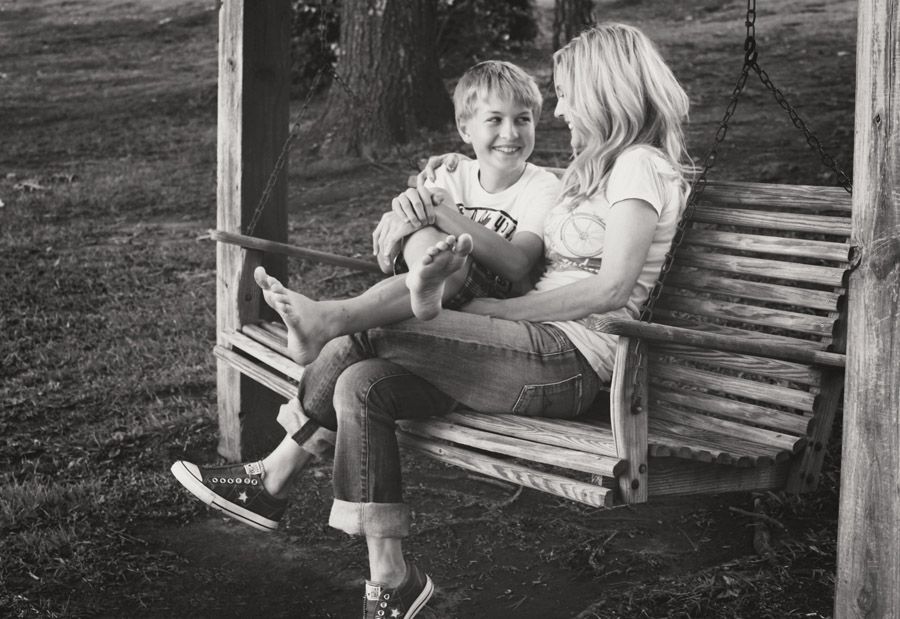 6. Try different perspectives.
For this shot I positioned the camera above us angled down.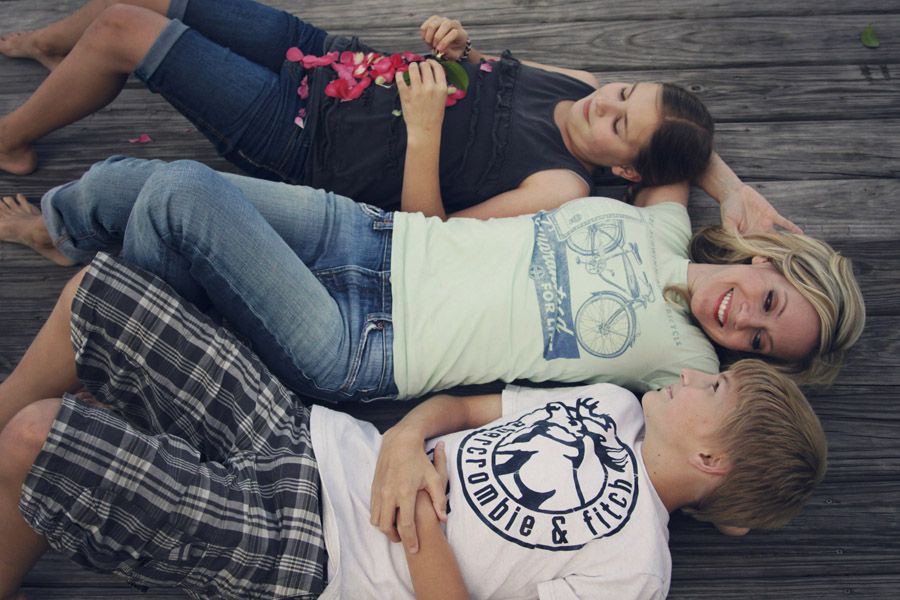 This may actually require a tripod unless you have an industrial strength slingshot to hang your camera from. This shot works best with a wide angle lens or point and shoot camera. Pokey is in her own little world and I love that I've captured this moment.
You could also position your camera from a different angle or zoom in more to give your photo a new twist. If you have a DLSR, set your camera to a big aperture (f/2.8 or smaller) and focus in on the details, giving shallow DOF (which will blur out the background.) Don't be afraid to experiment.
Another way to get interesting photos is to use a different eye. Try handing the camera over to the kids. Mine never cease to surprise me with their inventive perspectives. If you have smaller children, teach them the basics- the importance of holding the camera still, where the button is, etc. You're sure to get some creative photos.

7. Plan ahead when possible.
Pay attention to your surroundings when you're out and about. If you see a beautiful location, take mental notes or snap a quick photo.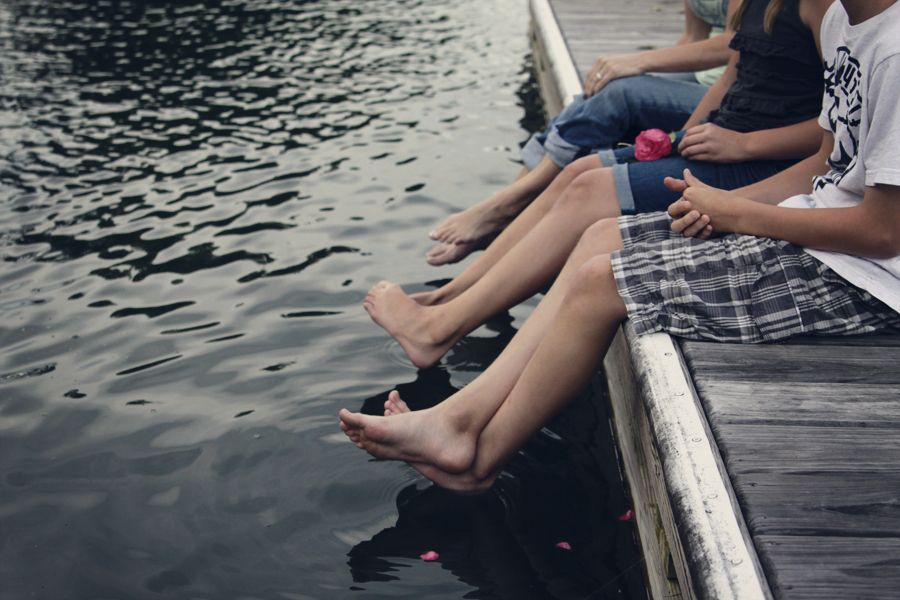 You may not have a lake nearby, but no matter where you live, there is beauty to be found. So often we drive by fields or lovely groves that would make for perfect photo ops, but we don't give it a second thought. If you are actually planning a family photo, I would suggest you do a little preparation before the day of your shoot. Pay attention to the weather and light patterns. Think about some coordinating clothing. And try to take your photos in the early morning or late evening light.
8. Use creative phone gadgets.
You can always hold your phone out in front of you. The iPhone 4s and 5 now offer the front facing cameras which at least lets you see what you are photographing before you release the shutter.
But there are so many other ways to get fun iPhone photos these days using different gadgets. You can have Fisheye, Telephoto, Wide Angle and Macro photos with this
lens set
. Or how about a clip-on
polarizing filter
for your phone? You can
find more clever ideas here
.
My favorite new toy, hands down, is my
gorillapod and clampstand from PhotoJojo
! Lightweight, easy to throw in my purse and only $30. Brilliant invention. The tripod is flexible and can work on top of surfaces or be maneuvered around posts or branches. The clampstand is universal and works with all smart phones.
Try setting the stand on the ground to get interesting perspectives and focus on small details...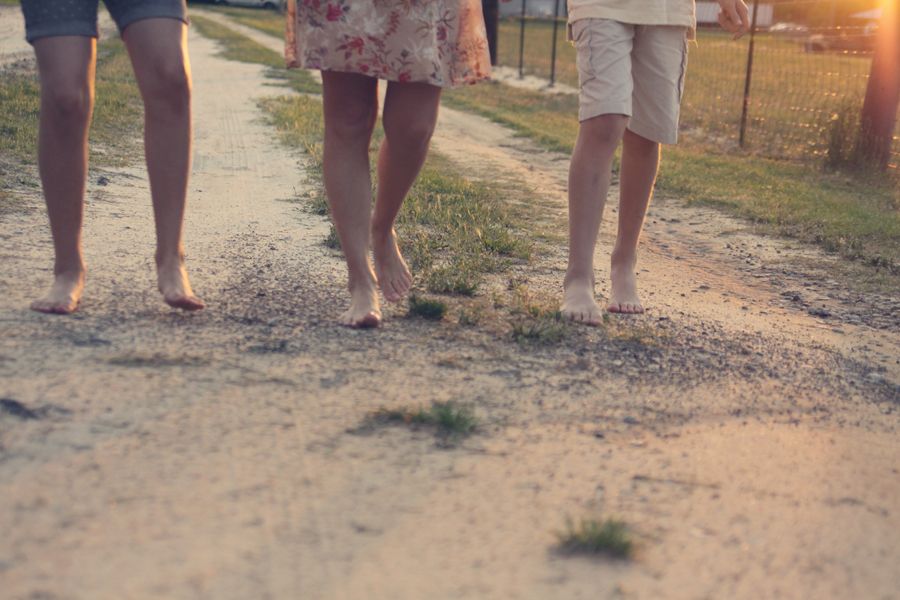 There are so many selfie apps out there now it's almost overwhelming. TimerCam, Zoom & Timer, PhotoTimer to name a few. But I sampled several and have found the
Photo Timer+
to be my fav so far. You can select the amount of time between frames and the number of photos up to 10. It's simple and straight forward and has worked well for me.
If you don't have the gorillapod or a smart phone stand, try using the selfie apps by propping your phone. It could make for some interesting photos.
9. Don't forget to have fun.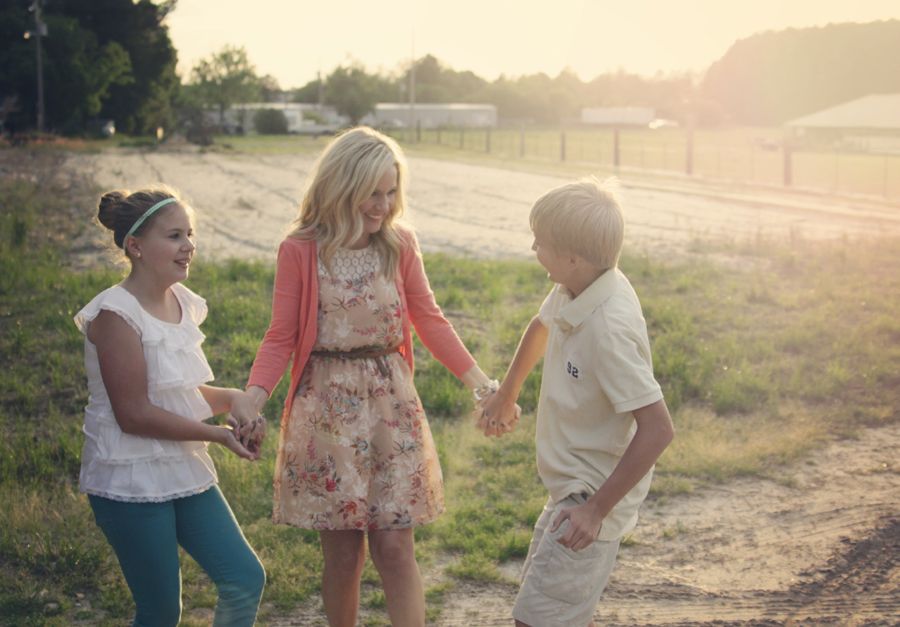 There seemed to be more smiles when the kids were wee little things. These days they don't come as easily. So try to have fun. This was a friendly game of mercy. Not the most ideal backdrop but the faces are priceless.
10. Rewards go a long way.
Rewards. Bribes. Call them what you will. The mention of ice cream or money usually make my kids pretty cooperative. Don't let their faces fool you- they really did enjoy their sweet treat. And they scored a little of my chocolate fudge, brownie waffle cone as well.
Once you're taking beautiful selfies, make sure to share them! There's a giant photography community out there made up of folks just like you that love to share photos and be inspired by others.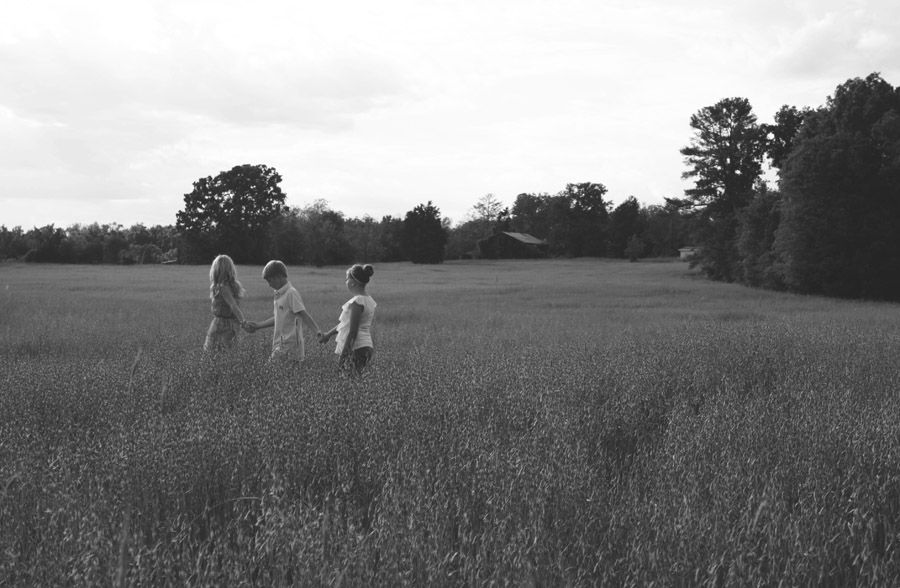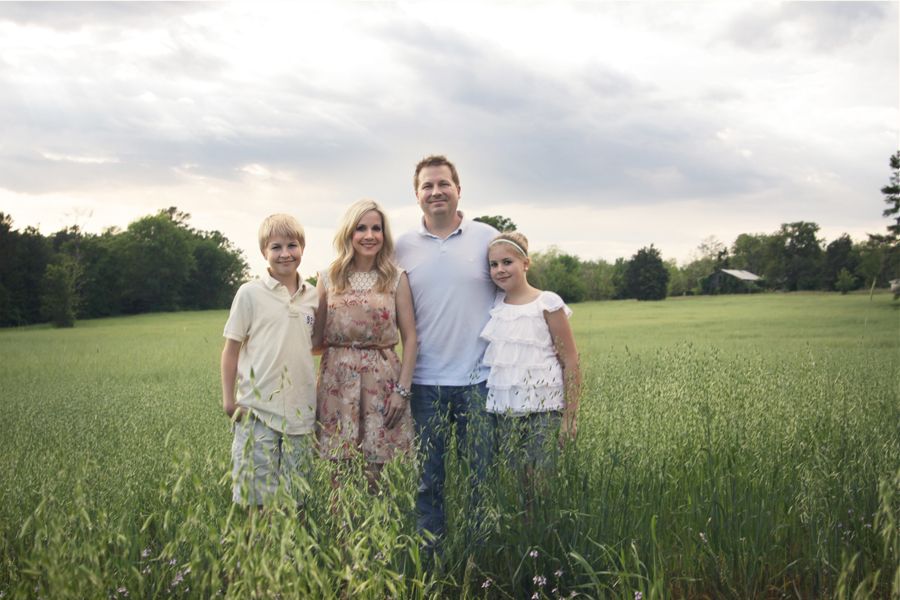 They'd love to see your family selfies. So, join
instagram
, eyeem, or
flickr
and start uploading your photos!
I do not profess to be an expert on the subject of selfies, but I know it's important to step in front of the camera from time to time and I feel compelled to share what I know.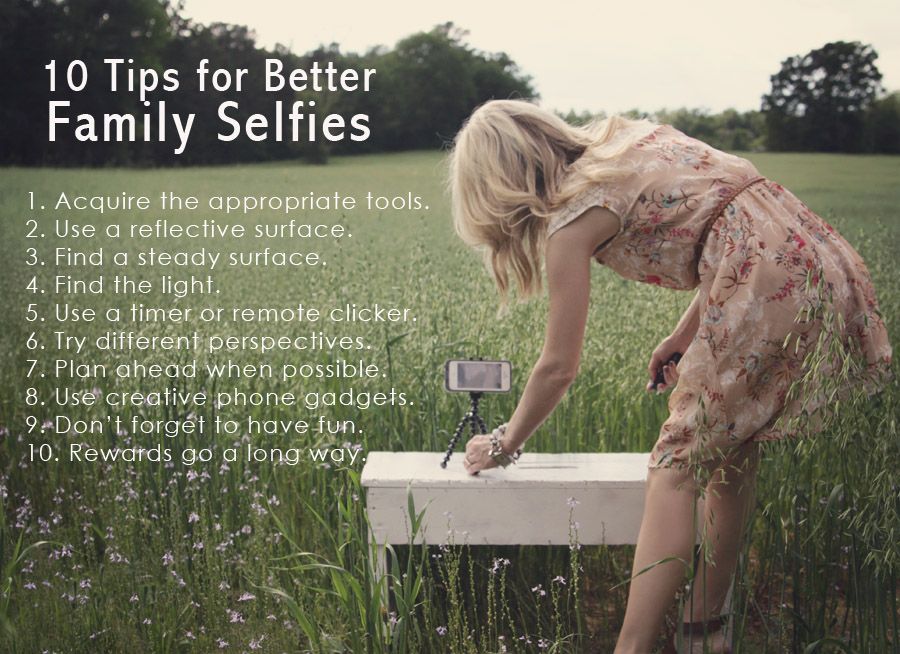 Yesterday I learned of a young mother in Utah who died giving birth to her 6th child. It was heart wrenching and difficult to listen to the words of her young, teary children who survived her. Yet another reminder how precious our time is here.
Whether you have a few pounds to lose, are having a bad hair day, a new eczema outbreak or have nothing to wear-- I promise that years from now when your family is looking through your albums none of that stuff will matter. All that will matter is that you are in them.
No one knows when their time is up, so stop putting off photos with your kids. They don't have to be glamour shots, just grab a camera and take some candid snaps. It's one of the best legacies you can leave your family.
So, next time you find yourself on your own- without a friend or family member there to snap your photo- you can stay back behind the camera or jump in the frame. What will you choose?
I'm teaming up with Rebecca of
Bumbles & Light
and Kristi of
Live and Love out Loud
for another inspiring adventure as we photograph our way through spring with the
Nurture Photography Challenge
- a seasonal photo challenge series chock full of tips and tutorials, inspiring weekly prompts, personal feedback and encouragement.
Just a few details:
All are welcome regardless of skill level, camera equipment or geographic location.
Share your favorite images inspired by our weekly prompts each Friday and grab our lovely button while you're at it!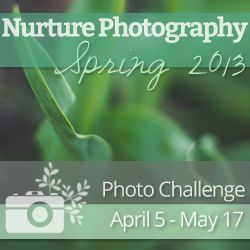 The linky will remain open from 9am Friday – 9am Thursday CST. Don't forget to visit and comment on the previous entry in the linky list.
We're sharing the photography love and showcasing our talented photographers by pinning some of your lovely photos to our
Nurture Photography Inspiration Board
.
The Nurture Photography Challenge has taken to Facebook!
Stop by, "like" our new
Facebook fan page
, ask questions and share your work on our wall as well.
We love Instagram just as much as you do!
We'll be on the lookout for your beautiful winter photos, so be sure to use the #nurturephoto hashtag. We'll share a few favorites on Instagram each week, sending a little bit of love your way.