T minus two days... and kidlets will be out for summer (if you count these partial days til 10:30). I think we all have the time-for-school-to-be-done-already-summer fever around these parts. Last night I was quizzing my daughter on Hiduism, the Great Wall of China, Mesopotamia as well as plenty of other unfun historical tidbits. And little man is trying hard to stay on task. It seems cruel to still have projects and looming tests in June. Particularly with these beautiful sunny days in the high eighties teasing us and friend's trip photos plastered around the net. Even with all of the snow make-up days in Iowa, I can't recall ever getting out this late.
Does anyone else remember summer break being Memorial Day to Labor Day? It seems to be shrinking with every passing year.
And summer days don't have that same unstructured bike, swim, run the neighborhood til dark and catch lightening bugs kind of feel. Sometimes I long for those simpler, carefree days before wi-fi and handheld devices.
Although I have always really enjoyed time with the kids, each year seems more challenging as hormones and attitudes become more pronounced. I can't help but reminisce back to days gone by and mourn my babies just a wee bit. Especially when that nasty B word creeps in. And it seems to come in high pitched whines to boot these days. "I'm B-O-R-E-D." The one word no mom wants to hear twelve hours into break. I may have to incorporate my friend's "I'm Bored Jar" filled with all sorts of chores to help them out when they've forgotten how to entertain themselves. Pretty ingenious if I do say so myself.
To further ensure a summer free of boredom and unnecessary drama (which is not limited to toddlers in case you were wondering) I've also lined up pool passes and summer camps and have drafted a condensed bucket list that hopefully even my 11 and 13 year old can get excited about because I'd love to savor every last minute with them, even if I'm not as cool as I once was. This may not make for the spontaneous kind of adventures I long for, but it certainly is a great tool to give kids some direction and purpose during the summer months.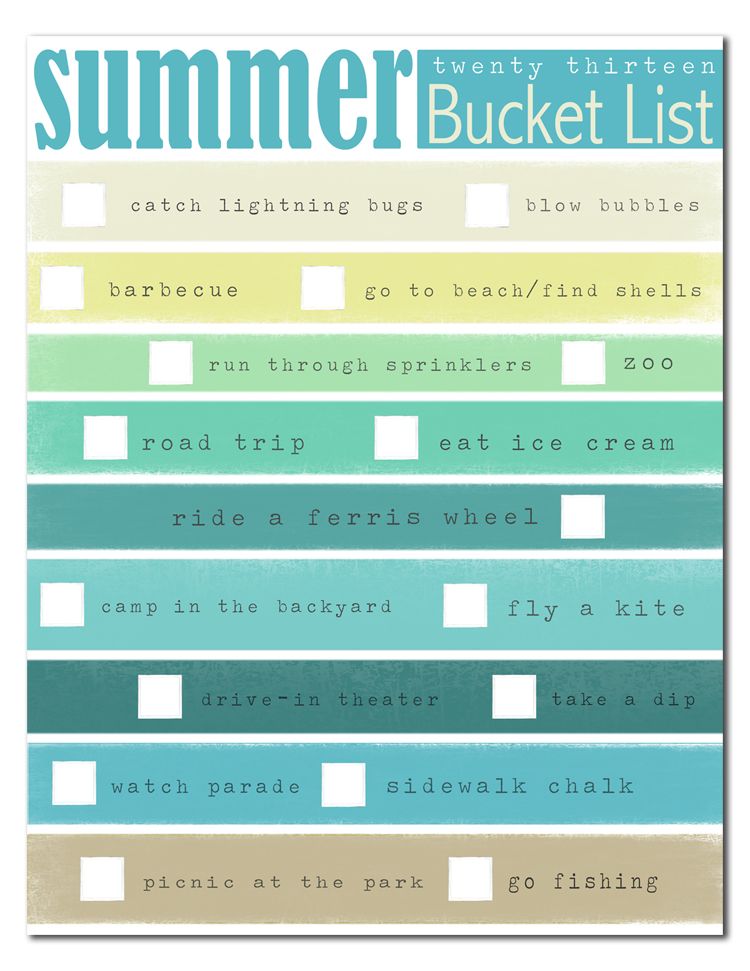 So, for all of my North American friends heading into those warm, sun filled lazy days (a girl can dream)- here's an 8 1/2 x 11 printable for you. Hang it on the fridge or bulletin board. Or get fancy and throw it in a frame. You could even use a dry erase marker on the glass. If you missed my 2012 "50 Things to Do Before Summer Kicks the Bucket" List, you can
grab that one here
. If you want a more simple version, this one may hit the spot.
If you have Photoshop or Elements you can customize the words or colors to your liking. Perhaps you have family traditions or unique spots in your area that you'd like to add. Or you'd like to tweak the colors to match your kitchen or family room. Have at it. If you don't have these editing programs, I'd be happy to tweak it for a $6 fee. There's also a JPG available- just download, print and start checking.
And I have a fun giveaway going on through Tuesday, June 11th at Midnight. Kristy of Life-n-Reflection has a Photo Pizazz Club Membership now available and she's giving away a year's worth of fun and goodies plus a Science of Textures Class right here at Project Alicia.
Make sure to enter to win this awesome giveaway
! Sounds like some easy, rainy day activities with the kids.

You can find more freebies here. Happy Summer!



In case you're new here, this is Wordless Wednesday. But as you can see, I have a hard time keeping it wordless, so Wordful or Not So Wordless posts are always welcome here. You can grab my button in the sidebar but it is not required to participate. Just grab any photo and come link up! And if you'd like to connect with other WW participants, click

HERE

or one of the thumbnails below. It's a fun way to meet some new folks!